"Which drone should I buy for my farm?"
There is no easy answer to this question, but with this post I'll try to narrow it down a bit.
I thought about typing out a whole question and answer list, but let's just keep it simple. For most producers the best first drone is going to be sometime relatively simple and low cost (NOT 8 or 10 grand+). Like any other technology, these models are changing very quickly, so make sure to do your homework.
---
Model: Phantom 3
Manufacturer: DJI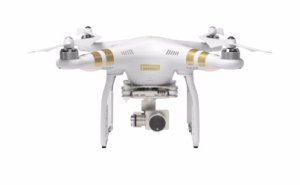 The Good:
The Phantom 3 has a built-in camera and gimbal, live high definition camera, live video feed on a smartphone or tablet, and awesome range
– DJI has been making entry-level drones for many years, lots of dealers, parts / service / repair, and good resale if you choose to upgrade after a short period of time
– Many outside companies are developing advanced features (many targeted for Agriculture)
– Great value for the money, would have been more double the price just a year ago
– Very little lens curvature on the the camera – the earth won't look warped/rounded
The Bad:
– Still no autonomous waypoints.. hopefully this will come soon in a software update.
(waypoints = you place points on a Google Earth map and watch it fly itself)
– Extra batteries are still hard to come by, but supply and demand should work itself out within a couple months
– Not directly compatible with cameras other than the built-in one (there may eventually be another model released that caters to this)
Bottom Line:
A third generation product that's been well refined, and the best value for the money.
---
Model: Solo
Manufacturer: 3DR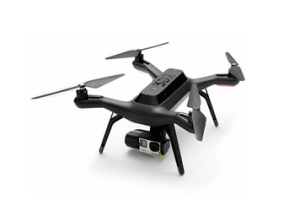 The Good:
The Solo has  built-in live video feed to a tablet or smartphone, optional gimbal for a GoPro cameras, and a very smart controller
– Great feature set: comes out of the box with waypoints
– Awesome warranty: if it flies away due to a computer error they replace the Solo and GoPro for free
– Easily adaptable for other cameras
– Easier software updates and easier for support to obtain information to help
The Bad:
– A little more money due to the added cost of no built-in camera (GoPro is a separate purchase)
– Likely not as many outside companies developing add-on features for Agriculture
– GoPro cameras make the landscape look warped (fisheye is the technical term), unless they're modified with a different lens
– Less range than the Phantom 3
– The gimbal for it still has not yet shipped
(that's the brushless motor adapter that steadies the camera)
Bottom Line:
If you need waypoints right now and/or want to use a GoPro camera this is the winner, hands down.
---
Other Considerations:
– Recommend at least two additional batteries for either way you go
– Please make SURE to get some kind of tracking device. Corn heads will find missing drones if you don't
– If you go with an older model that's a great place to start as well, but be careful if it's a used one
– A spare set of props and a good case is a great idea
– There are other models out there (take the Yuneec Q500 for example), but these are the two most popular, and best value for the money.
Keep in mind these are aircraft, and anything airborne is a whole different ballgame than on the ground.
ALWAYS study and know the user guides and manuals and fly responsibly.
Full disclosure: ExtremeUAS.com is a nearby neighbor and a long time customer.
I'm not telling you where to buy a drone, but if you want to buy one from a tech savvy farmer, Corey at Extreme UAS would be an excellent choice.