I've recently discovered some smartphone and tablet apps that have brought me to think more about logistics. Logistics tools used effectively can be a great addition to efficiency via savings of time, fuel, mileage, money, etc.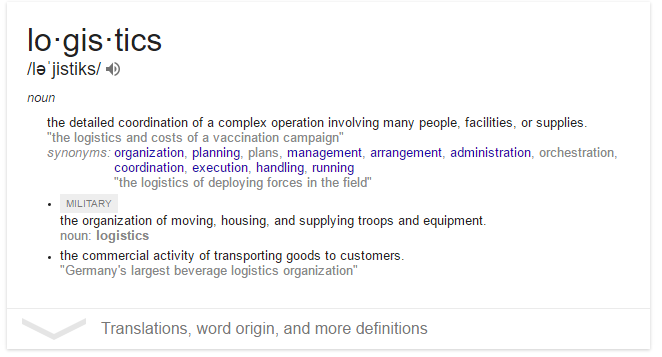 If a $55k salary UPS driver delivering $10-20k in packages a day has automated delivery tech tools for maximum efficiency, then why doesn't a farm operation moving $10k+ of product an hour have the tools too? In my opinion, logistics of people and machinery is the biggest opportunity in AgTech today.
Yes, I realize between CB's, handheld radios, and cell phones we all have ways to communicate. But that does not mean we're constantly thinking about logistics (see #cartdriversfault on Twitter.. at least for some good laughs).
While this isn't the first time I've thought about logistics for farms, it's the first time I've seen the barrier to entry be so low and essentially free. Earlier this year, John Deere launched their Grain Truck Plus app. The GrainTruckPlus app lets users see each other on a Google map, along with attempting to estimate wait times at elevators by crowd-sourcing the wait times. While I wasn't able to test any of the elevator wait time estimates, I found the app to be reasonable about time of updating position and was happy with the minimal data usage. Maybe the updates would have been slightly better if I wasn't using poorly covered T-Mobile cell network on my Tablet in one of the grain trucks.
See some of my thoughts in the captioned screenshots / tweets below.
GrainTruckPlus is available on Google Android and Apple iOS devices
Note: The app isn't directly compatible with tablets because of the phone number requirement for a signup text (I used APK Extractor for a workaround)
---
So being the agnerd that I am, I thought this is all great, but there must be other logistics apps out there too. The first one I came across was "Real-Time GPS Tracker 2" on Google's Android Play Store. Real-Time GPS tracker 2 is very impressive in its performance and features for a mostly free to use app. While the app does not have anything to do with Agriculture in particular (and doesn't do elevator wait times), I found it to be very useful.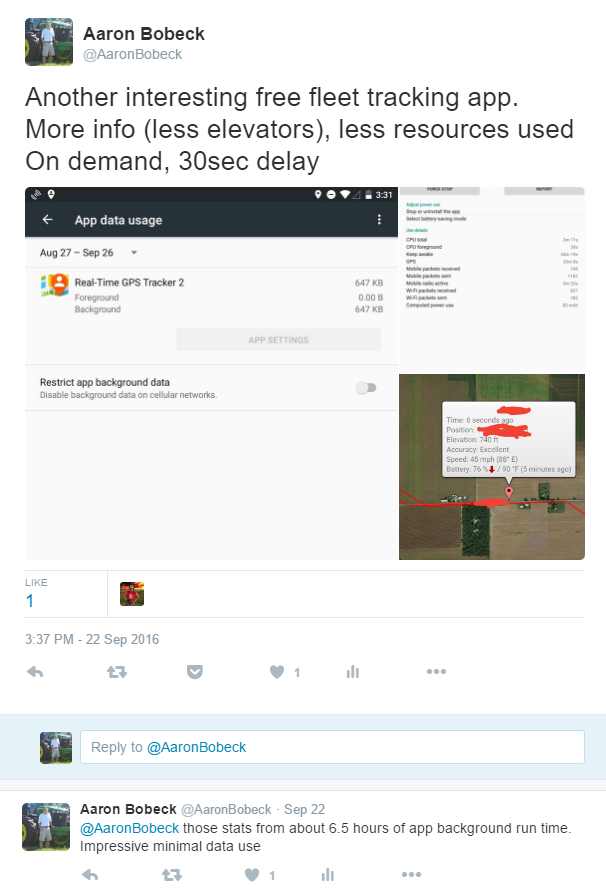 Below is a screenshot of the Real-Time GPS Tracker 2 app on my phone, looking at the grain truck with my tablet inside. Information shown in the bubble includes full username (which I've marked out at the top), lat/lon, elevation, GPS accuracy estimate, speed and direction and battery of the remote device. All really nice information, and it's shown on Google maps in near real time. The top bar is information from my phone. Plus, it's all on demand, the app on the tablet side only reports these details when another user in the group has started the app on their device.
Notice the red along the road, you can even do breadcrumbing to record the path the grain trucks' path.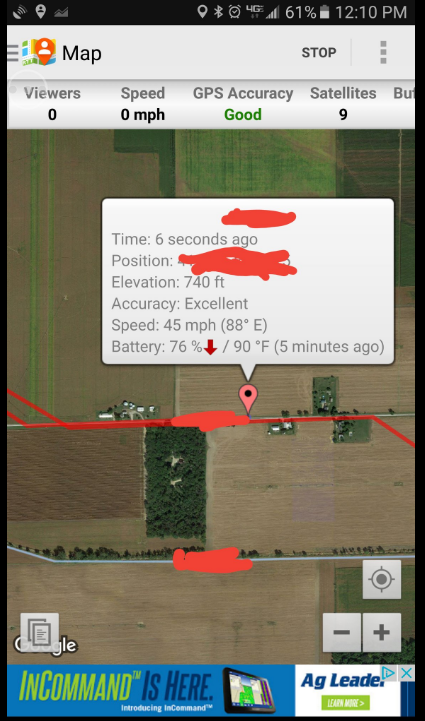 I think this is only the beginning of a gigantic opportunity for logistics in Agriculture. Putting a tablet with cellular capability in every vehicle is looking more useful than ever. Just keep in mind these with these free apps, you're potentially giving up some level privacy.